Edwin (Ned) Ferguson, M.D.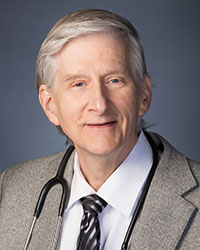 Dr. Ferguson graduated from George Washington University School of Medicine, Washington, DC in 1974 and completed his internal medicine residency and was chief medicine resident at the University of Wisconsin Hospital in Madison in 1978.
He served two years with Public Health Service in Barboursville, West Virgina from 1978-1980 an then returned to Wisconsin. He practiced internal medicine in Waunakee, Wisconsin 1980-1990 affiliated with the Quisling Clinic. He joined the internal medicine department at the University of Wisconsin in Madison and practiced medicine and preventive cardiology (specializing in cholesterol disorders and cardiac rehabilitation) from 1991-2012.
He spent two years at an advanced lipidology clinic in Delafield, Wisconsin until his retirement in 2014 from active practice.
Additional Expertise
He has maintained a personal and professional interest in the prevention of cardiovascular disease and diabetes mellitus, and in lifestyle changes to help achieve these goals. He has published several leading articles and book chapters in the field of preventative cardiology and lipidoloy, and has been a speaker on these topics regionally and nationally for 20 years.
He has also completed courses in functional medicine with the Institute for Functional Medicine. He has another special interest in the prevention of Alzheimer's disease and other forms of dementia.
He maintains and interest in alternative medicine and nontraditional medicine as a compliment to patient care along with traditional medicine and techniques.
Springtime Health and Wellness is a good place top fulfill his interest in these therapies. Contact us to schedule an appointment.
CHIROPRACTIC CARE »

Dr. Edwin Ferguson | (608) 274-6200